Electronics Starter Kit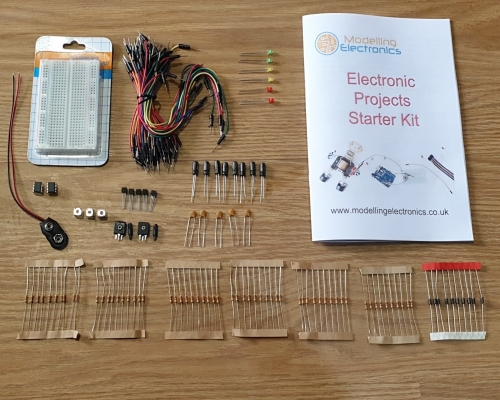 We have produced this starter kit to give the reader a basic understanding of some electronics components and how they are connected into a circuit. We have included a few circuits in this tutorial booklet along with the circuit diagram and step by step instructions.
The components included in this starter kit would allow the user to make a large selection of simple circuits and we have included a range of circuits/projects on our website which can be downloaded and printed off to accompany this booklet.
We will be adding new circuits from time to time on our website as well as frequently asked questions and useful help guides.
Kit includes.
1 x booklet
1 x Breadboard + jumper wire pack
10 x 100nf ceramic disc capacitors
1 x 47k pot + spindle
1 x 100k pot + spindle
10 x 1N4001 Diodes
2 x 555 integrated circuits
2 x 3mm red LEDs
2 x 3mm green LEDs
2 x 3mm yellow LEDs
1 x 9v battery clip
3 x tact switches
5 x BC547B transistors 10 x 100R Resistors
10 x 220R Resistors
10 x 470R Resistors
10 x 560R Resistors
10 x 1k Resistors
10 x 10k Resistors
2 x 10uf 16v electrolytic capacitors
2 x 22uf 16v electrolytic capacitors
2 x 47uf 16v electrolytic capacitors
2 x 100uf 16v electrolytic capacitors
Item number
Data Sheet
Product Name
Price
Add to Basket
900-004
Electronics Start Kit x 1
£16.63